June 18, 2018Charles Ramos Jrchihuahua, football, german shepherd, Germany, mexico, soccer, World Cup
GERMANY TALKS SHIT GETS BIT
Greetings sports fans and here we go again with a Valley News Sports Beat Monday morning as we turn our attention now from Father's Day, to focus on football and the World Cup Soccer Tournament. The big news of the day being, of course, the huge upset victory for the Mexican National team as it beats the defending world champion Germany 1-0.
In spite of all their pre-game hype on Twitter that featured among other things a chihuahua trying to mount a seated German Shepherd dog that was looking back at the tiny chihuahua with utter disdain. Not to mention the uber-conceited comment made by a player from Germany and quoted in the media who said that soccer is a game where 22 men chase a ball around for 90 minutes, and then Germany wins.
Oh but that certainly was not the worst thing that was said by far. On Sunday the German newspaper, Die Welt, took a cheap shot and threw a low blow at Mexico by publishing an insensitive and inflammatory headline about what Germany was going to do to the Mexican team on the pitch by alluding to President Donald Trump's plans to build a wall on the U.S.-Mexico border.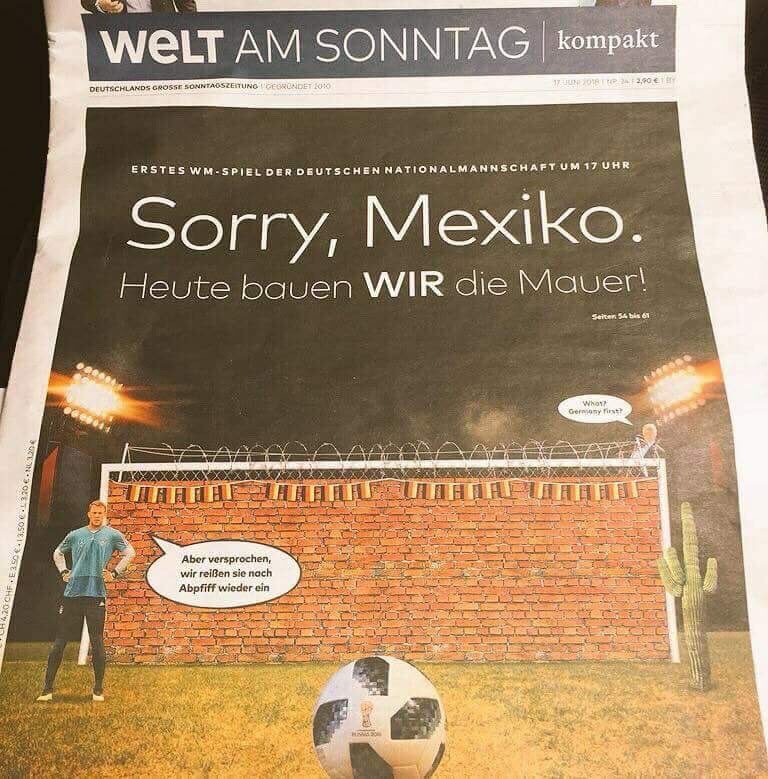 Maybe Die Welt meant for that ill-advised remark, "Sorry, Mexiko, Heute bauen WIR die Mauer!" which means; "Sorry, Mexico Today WE build the wall!" to light a fire under the German team. The problem, however; is that it had the effect of firing up the wrong team.
By hinting that Germany was erecting a wall against Mexican soccer's advance, the editors at Die Welt seem to have already forgotten all about their own, Berlin Wall and the pain it caused their own country for so many decades.
The German player in the picture is saying, "But we promise we'll drop you off again."
Germany's memes were clearly over the top as far as testing the limits of sportsmanship, and classlessness goes. That they displayed a decided lack of maturity and discretion is indisputable, and now they are paying for it today as the internet is buzzing from all of the chihuahua screws German Shepherd jokes that are flying around making social media sites like Facebook and Twitter seem like an international airport for mosquitos. One Twitter user replied to that dog-on-dog meme with; Wie fühlt sich dein Spundloch Jetzt an Welpe? Only in English.
There is an old saying to the effect that; if you want to hear God laugh tell Him your plans. Apparently, God was listening to all of that pre-game hype and couldn't keep Himself from laughing as Mexico and Germany took to the pitch Sunday morning. Where Germany, for all of their barking and strutting about, only got bitten in the arse by Karma instead because the Chihuahua's were clearly not the least bit intimidated by the big dogs from Germany.
Four-time world champion Germany was the heavy favorite going into the match. The team was expected to be a daunting contender for a fifth overall victory on the World Cup stage but were unable to mount an effective attack against the tough Mexican defenders. That defense was designed and led by team manager Juan Carlos Osorio.
Exactly two weeks before 2018 World Cup opener against Germany, thousands of Mexico's El Tri fans were clamoring for Orsorios' head on a silver platter. And they most certainly were not alone. "Fuera Osorio! Fuera Osorio!" They shouted, or Osorio out! Osorio out!
Coach Osorio was an extremely unpopular person in Mexico where his constant tweaking and experimenting with the team's strategies was often thought for blame after poor performances. To their fans way of thinking, this was the main reason that Mexico wasn't playing as well as they expected them to.
On Sunday, however; playing the defending world champs in the biggest game of his life as a coach, Osorio was completely vindicated and now El Tri leads the 2018 World Cup's list of winners from the 4th day of the tournament.
This is because the opposite side of that coin is that Osorio's game-specific strategies give his players customized game plans that are tailored to a specific opponent. Juan Carlos is undoubtedly the best in the world at designing a plan of attack that effectively neutralizes each opposing team's strengths while simultaneously exploiting their weaknesses.
He had 7 whole months to prepare for Sunday's match against Germany and he clearly made the most of that time to develop a specific plan of attack for Germany. One that he knew would give his team its best chances of winning. That then was the story in Russia Sunday morning of Mexico's win over Germany.
There were several distinct strategies which were symbolic of the complexity with which Osorio devised it. The first of those strategies was to put the brakes on Germany's attacking specialists. to do this, Osorio deployed three active midfielders who were able to shuttle back and forth, vertically and horizontally, in front of the defense. Their responsibility was the area of the midfield that Thomas Muller, Mesut Ozil, and Julian Draxler typically operate in.
While that would seem to leave ample room for Toni Kroos, called by many the most technically-gifted passer in the world to run wild in but this was not to be the case. Juan Carlos Osorio assigned Carlos Vela a quasi-man-marking assignment, which required him to follow Toni Kroos even if he had to track him all the way across the field to do so.If Kroos dropped into the left back position, then Carlos Vela defended as a right winger, with Miguel Layun dropping back to play as either a right-sided central midfielder or a right-side wingback. If Kroos was playing central, then Carlos Vela would take up the number 10 position, and Miguel Layun covered wide right. In this manner, Osorio and Vela took Toni Kroos completely out of the game, making him little more than a spectator to his team's demise on the world stage.
This then meant that Germany's main route, if they wished to get the ball past Mexico, had to transition through wide channels. Joshua Kimmich is always a threat down the right side, but again Osorio had a strategy waiting to counter that threat and he used the aggressiveness of Germany's fullbacks, especially Kimmich's, to his own team's advantage.
Whenever Germany had possession of the ball, Chicharito was usually left alone to take on both of Germany's center backs two-on-one. But then whenever Mexico would win the ball, Chicharito would check to it while Vela, Layun and Hirving Lozano would break out into the spaces vacated by the fullbacks, or into the defensive midfield space that was often left open by Toni Kroos.
Who of course was busy watching the match somewhere else and no doubt cursing the incessant little "Chihuahua's" that kept nipping at his heels and playing him out of position.
This then was the reason why Mexico was so effective and deadly with their counterattack. That deadly strategy was masterminded by the previously despised, Juan Carlos Osorio who is undoubtedly a Mexican national hero today. Which is no less than it should be.
Mexico gained the victory on this day, on this field, but if Osorio hopes to go any further in Russia and advance the team closer to hoisting the World Cup trophy, then they will have to be a great deal more tenacious and efficient than they ever have been before going into their next match.
Both the Geman manager and his players were outcoached and played by the other side but after the match, Mark Hummels, Germany's center back, whined and complained about his team's inferior tactics and intimated that the problem lay in the ineffectiveness of the coach and his staff. For certainly the fault could not have been his to share in any way nor that of his teammates.
Mexico's defeat is hardly any reason for Germany to panic at this point in time. The defending champions were simply outfoxed and outscored by a team that designed and executed a brutal plan of attack and so vanquished them. The German team is still the best and they are undoubtedly still quite capable of repeating their last World Cup victory.
Even so, the fact remains that Germany is a loser on Day 4 and because of that fact they are currently on a head-on collision course with their bitter old rival, Brazil in the 16th round.