REPRINT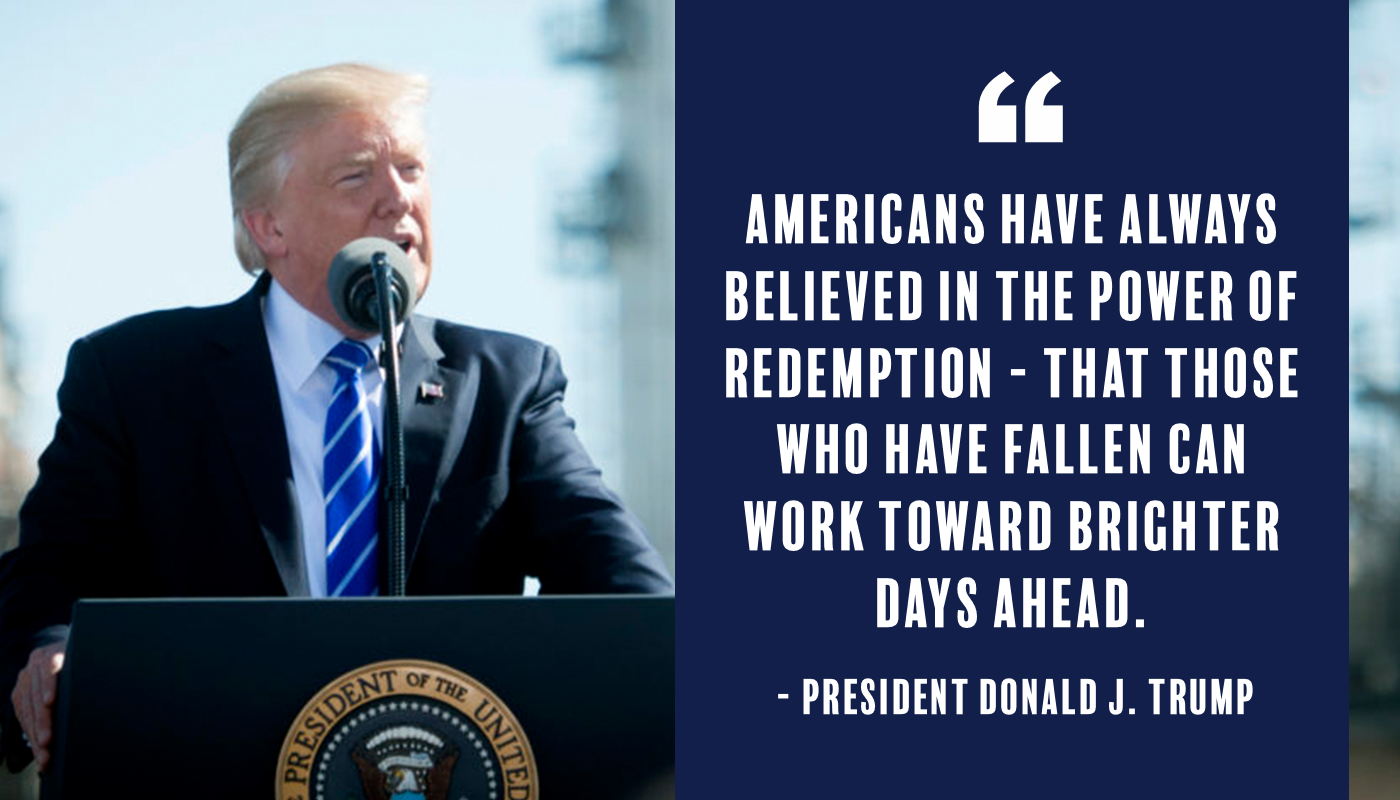 Last week, President Trump declared April Second Chance Month, saying "Americans have always believed in the power of redemption ‑ that those who have fallen can work toward brighter days ahead."
We here at the American Conservative Union Foundation's Nolan Center for Justice couldn't agree more.
We believe that every person has dignity and potential. However, for the 1 in 3 adults that have a criminal record in this country, that potential is severely limited. Access to education, employment, and housing are just a few of the barriers that formerly incarcerated folks face once they are released.
Why is this important? Because 97% of those in prison today will return to our communities. And we want them to be successful when they come home, so they become productive members of society. This makes us all safer.
Second Chance Month is part of a national effort to raise awareness of the challenges formerly incarcerated individuals face, and the steps we can take to ensure those leaving prison have the best opportunity for redemption.

In honor of Second Chance Month, we will be highlighting a few of the many individuals who have taken full advantage of their Second Chance at life. These individuals not only utilized their second chances to become contributing members of society, but also champions of criminal justice reform, shining a light on the incredible impact a second chance can have on an individual's life.
Stay tuned to learn about our Second Chance champions.
With Liberty and Justice for All,
David and the Nolan Center for Justice team
READ MORE ABOUT CRIMINAL JUSTICE REFORM
America's criminal justice system is broken and it will take conservatives to fix it. We are a part of the American Conservative Union, which has been fighting for conservative causes since 1964. We support the President's efforts to bring common sense conservative reforms to our criminal justice system.
God bless the heart that guides justice and mercy together.- Charles Ramos Jr formerly known as #112819. current Publisher,
B.B. Wolfe Publishing & Staff writer at Vegas Valley News .Com. I know I Ain't Misbehav'n. Lead image was signed for me by Sheriff Joe Arpaio at Dennis Hof's last birthday party. RIP Dennis.
Paid for by American Conservative Union Foundation's Nolan Center for Justice
201 N. Union Street, Suite 370 Alexandria, VA 22314