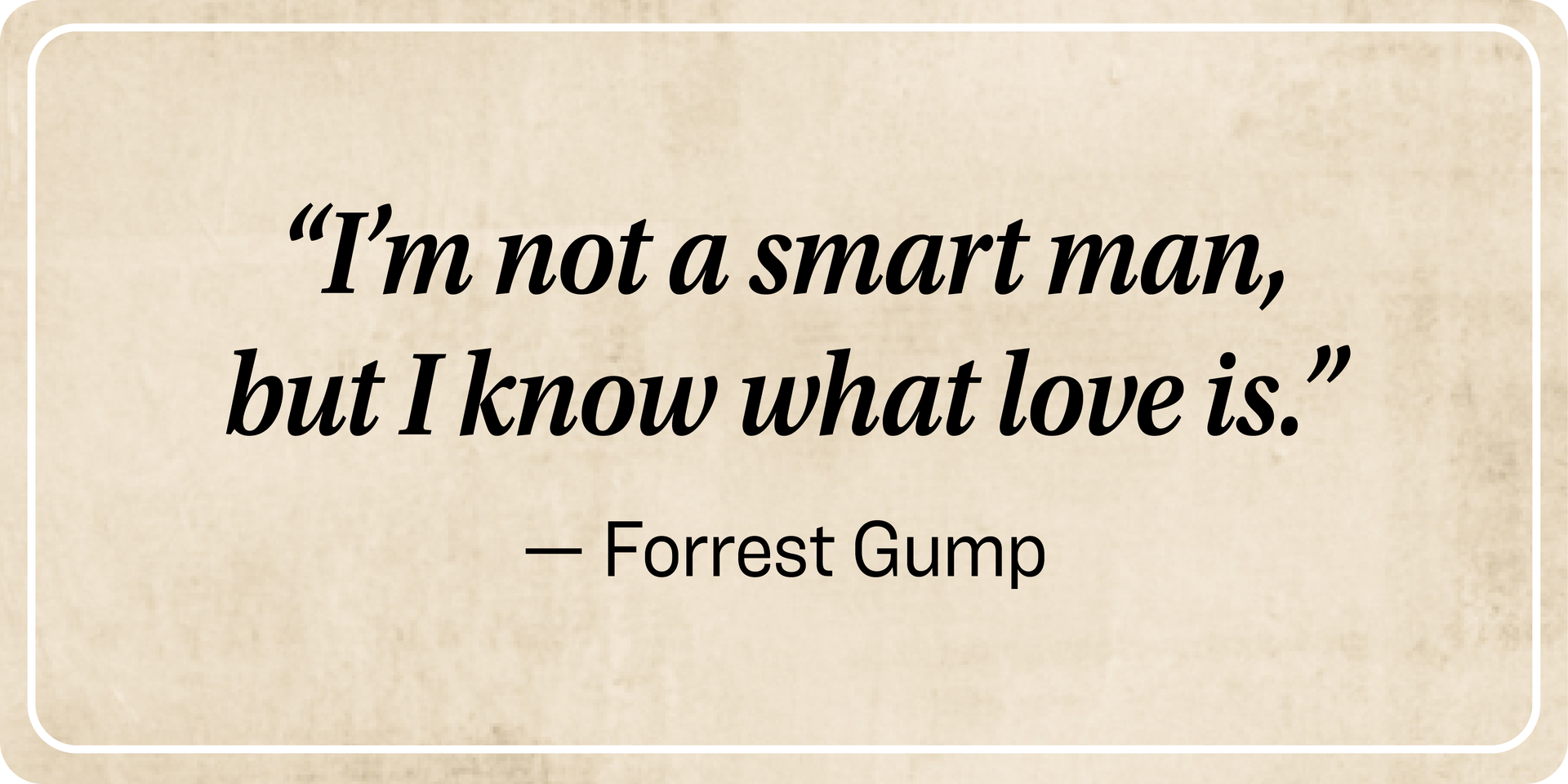 Recently, a friend told me that she's never seen Forrest Gump before—which is a crime in my house. So I made her watch the movie with me (spoilers ahead).
In light of recent events, this movie has taken on a new meaning for me.
Though Forrest and Jenny started "like peas and carrots," each of them soon got swept up by a different one of America's 20th-century cultural currents.
Forrest's path was classically American: going to college, playing football, serving his country, starting his own business, and going to church.
Jenny, on the other hand, dabbles in counterculture: dropping out of college, becoming a beatnik and then a hippie, joining the anti-war protests, indulging in the sex, drugs, and rock n' roll of the '70s.
In these two characters, I saw a reflection of today's America—with one side supporting the American tradition and the other opposing it.
Jenny's path finds her used and abused multiple times, first as a sex worker and then as a girlfriend. While she experiences momentary freedom as a hippie, she eventually devolves into a groupie who steals from the musicians she sleeps with and hits her lowest point when she attempts suicide.
But Forrest never stops loving Jenny, no matter how much their paths deviated from each other. He gets rejected by her multiple times but remains there for her through everything—never imposing, never selfish, never angry, always altruistic.
It's precisely because of Forrest's love that Jenny is able to find happiness in the end, and it's a kind of love that I think we can use more of in our society today.
2020 has shown me the destructive power of the forces that are working against our traditional values. Coming from a communist country, I know that these forces don't just destroy their enemies: they also destroy the same people who advocate for them.
Many people around me don't truly understand these forces, however, and they're people I care for deeply. Like Jenny, they were attracted to the prospect of freedom that these forces offered, and like Jenny, they're unable to see the destruction that these forces could cause to a person.
It's not easy, but I think that the best thing I can do for them is to be their Forrest. Even though they may seem to be confident in their decisions now, I have to be there for them with compassion and patience. I have to love them simply and selflessly; I have to stay firm in my own convictions and not give up.
For history tells me that one day, they might regret their decisions. When that day comes, they're going to need someone there to help bring them back.
— Jeanette S.
Marketing Associate
The Epoch Times
We want to support people in making the decisions that resonate the most with their values here at The Epoch Times. This also means making the decisions that resonate the most with our own, regardless of what situations may come our way.
If you like the principles that guide us, please consider subscribing The Epoch Times.
It'll help us stay independent—and true to our values—when big tech and other organizations are trying to shut us down. Get 2 Months for $1
Receive $10 in Epoch Credit with a digital subscription.
Limited time offer. Cancel Anytime.
Copyright © 2021 The Epoch Times. All rights reserved.
We're always trying to find new ways to get you special offers on the news you trust,
to improve your news experience, and to keep you inspired in a time like today. Our Specials and Updates email list is how we tell you about all these new ways.
The Epoch Times. 229 W. 28 St. Fl. 7 New York, NY 10001
Terms & Conditions | Customer Service | Privacy Policy | Unsubscribe
It's day two of Judge Amy Coney Barrett's confirmation hearings for the U.S. Supreme Court. As expected, Judge Barrett is proving that she understands our Constitution and the importance of separation of powers far better than Senate Democrats do.
 
Since fewer than one-third of Americans want the Senate to reject Barrett's nomination, Democrats have made their strategy clear: distraction. Rather than question Judge Barrett's credentials—which are outstanding and have received bipartisan praise—they are trying to disrupt the process with yet another fight about Obamacare.
 
Of course, it's not a judge's job to make policy. Amy Coney Barrett knows that.
 
"Courts are not designed to solve every problem or right every wrong in our public life," she said yesterday. "The policy decisions and value judgements (sic) of government must be made by the political branches, elected by and accountable to the people."
 
🎬 Judge Barrett: Courts are not designed to do the jobs of politicians
 
Keeping politics out of the courtroom is at the heart of our Constitution's separation of powers. If Senate Democrats don't want to believe Judge Barrett or their Republican colleagues, they should at least heed the words of the late Justice Ruth Bader Ginsburg.
 
"A judge sworn to decide impartially can offer no forecasts, no hints, for that would show not only disregard for the specifics of the particular case—it would display disdain for the entire judicial process," Ginsburg said during her 1993 confirmation hearings.
 
Chief Justice John Roberts and Justices Elena Kagan, Samuel Alito, and Stephen Breyer all respected this standard and declined to comment on issues that might come before the court. So why are Democrats pressing Judge Barrett to do the opposite?
 
Simple: "It was all cover for the gripe Democrats don't dare make publicly: that Barrett won't be an activist justice seeking to read liberals' wish lists into the Constitution," the New York Post editorial board writes. "And that's not good enough for Democrats who know how unpopular so many of their political dreams are."
 
Judge Barrett has made it clear that her personal opinions would have zero impact on her rulings. Her track record as a federal judge backs that up. Senate Democrats may have no idea how our Constitution works, but, fortunately, Amy Coney Barrett does.
 
"A judge must apply the law as it is written, not as she wishes it were," she said.
 
🎬 WATCH: America has a government of laws, not of men

Photo of the Day


President Trump disembarks Air Force One | October 12, 2020

Privacy Policy | Contact the White House 
The White House · 1600 Pennsylvania Ave NW · Washington, DC 20500 · USA · 202-456-1111